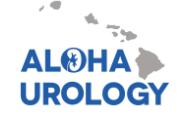 Peri-operative Registered Nurse
2022-06-23 Aloha Urology Surgical Specialties 1329 Lusitana St, Suite 401
Description:
The Peri-operative Nurse will work in three distinct areas: 
Pre-operative phase where the RN is responsible for conducting pre-operative evaluation, testing, and patient education.
Interoperative phase where the RN supervises and directs patient care in a single operating room.
Post-operative phase where the RN provides nursing care for the patient in the immediate post-operative/post anesthesia period, assessing and documenting patient's status upon arrival in the recovery room until discharge.  Provides nursing care to meet patient needs related to surgical condition and type of anesthesia administered, monitoring patient and informing surgeon or anesthesiologist of observed complications.
Prior peri-operative experience preferred but not required, and new graduate nurses are welcome. 
Do not contact this company in solicitation of any product or service.