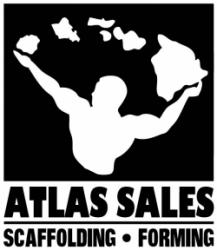 Scaffold Erector Laborer
Featured
2021-09-21 Atlas Sales Co Inc. Honolulu $14-$25 hour
Description:
Laborer Grade Scaffolders needed for established local Scaffold Contracting Company.
We are seeking reliable, productive & hardworking safety minded individuals to join one of Hawaii's oldest scaffolding companies.
Laborers must:
Be physically fit
Be able to lift a minimum of 50 lbs. repeatedly for extended lengths of time
Fluently communicate in English including reading, writing and speaking
Be able to work well with others within a professional scaffold crew
Have the ability to understand and follow given job and safety instructions
Have the desire to improve, learn, advance, and be a part of a professional and determined crew
Have reliable transportation
Be on-time to reporting job-sites daily
Pass a criminal background check, physical, & drug test
Be available to work weekends, nights, outer islands, and O.T.
Knowledge in OSHA regulations for Scaffold and Construction safety is preferred.
Only qualified applicants will be considered for the available positions.
Please e-mail resume and certifications to rose@atlas-sales.com.
Do not contact this company in solicitation of any product or service.